Mattu's IAB Store. This store is to sell off some of Matt's extra stuff. If you have any questions (especially on conditions of cards), don't hesitate to ask. Will combine shipping with any stores that quixote's store does. See quixote's store for details.

Dread Wight - Ice Age - Rare
Seller Information:
Mattu


(log in to contact seller/ask a question)
Quantity available
1
Price
$0.85
Game
Magic: The Gathering from Wizards of the Coast
Details:

NM condition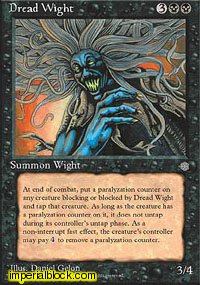 Postage Information:
US/Canada: 1-4 cards: $1, 5-20 cards: $2, 21+ cards: $.10 each.
Most other Countries: 1-4 cards: $1.50, 5-20 cards: $3, 21+ cards: $.15 each.
Accepted Payments:
Google Checkout, Paypal, Check or Money order via mail, Western Union
Cash is only accepted at the buyer's risk.
If there are other ways you would like to pay, just let me know.
I have over 150, with 100% positive feedback in eBay
Copyright © 1999-2022 Don Eisele. All rights reserved