Welcome to my store. If you have any questions about my storefront or the IAB in general, don't hesitate to ask me.
I also offer a
%5 discount on orders over $50
, and a
%10 discount on orders over $100
(automatically calculated at checkout).

The Tale of Selqet's Capture - Shadow of the Tyrant - Uncommon
Seller Information:
quixote


(log in to contact seller/ask a question)
Quantity available
9
Price

$1.25

$1.13

Game
Legend of the Burning Sands
Details: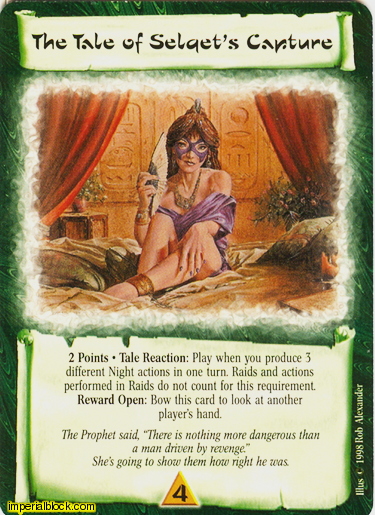 Additional notes in database for this item (if any):

Postage Information:
US: 1-9 cards: $1, 10-18 cards: $2, 19-100 cards: $3, 100+ see cart.
Other Countries: 1-9 cards: $1.50, 10-18 cards: $3, 19+ cards: $.15 each.
If there are other ways you would like to pay, just let me know.
Also check out my eBay for Sealed Product, and other gaming materials. eBay
Copyright © 1999-2022 Don Eisele. All rights reserved